[General] CSS Templates...
In my attempts to beautify my blog, I have finally included support for multiple alternate stylesheets.
All the three stylesheets were originally written by Douglas Bowman from
www.stopdesign.com
. All I have done is to slightly tweak the designs based on personal preference.
Now one of the major tasks that remain is to allow easier switching of the stylesheets via javascript. If you are already using a browser such as Mozilla Firefox, then you can access the alternate stylesheets via the View -> Page Style menu option.
As far as allowing for persistence of user selected stylesheet is concerned, I am still debating whether to include that option or not. I personally am not in the favor of using cookies on my blog. But I may give in and include a cookie for the same.
For those of you who are not so fortunate to be using a browser that allows the user to select the stylesheet, here are the screenshots of the same.
Minima Black: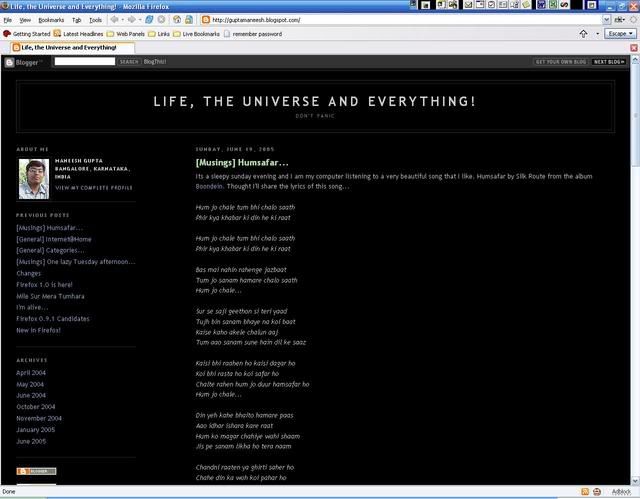 Minima Blue:
Minima Ochre: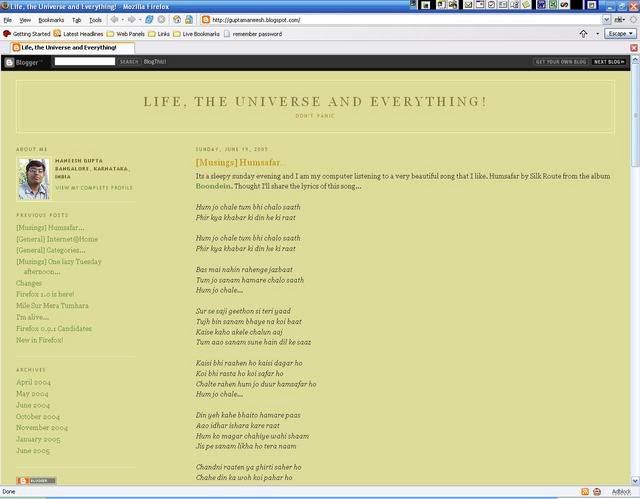 --
Posted by maneesh to
General
at 6/20/2005 05:03:00 PM